Organizations everywhere are accelerating their initiatives to use data and technology to optimize and transform business and operating models. The specific objectives of this digital acceleration depend on your organization's strategies and business — and it is those goals that will drive the resulting mandate for IT leaders, including software engineering leaders.
Source: 3 Digital Priorities for Software Engineering Leaders
Download eBook: Original Postublications/sustain-your-digital-momentum-3-goals-for-software-engineering-leaders" target="_blank">3 Goals for Software Engineering Leaders to Sustain Digital Momentum
Like most functional leaders today, software engineering leaders must transform themselves and their organizations to become more resilient, adaptable and effective, but what specific initiatives are needed to lead, innovate and continually optimize development strategy to achieve these goals?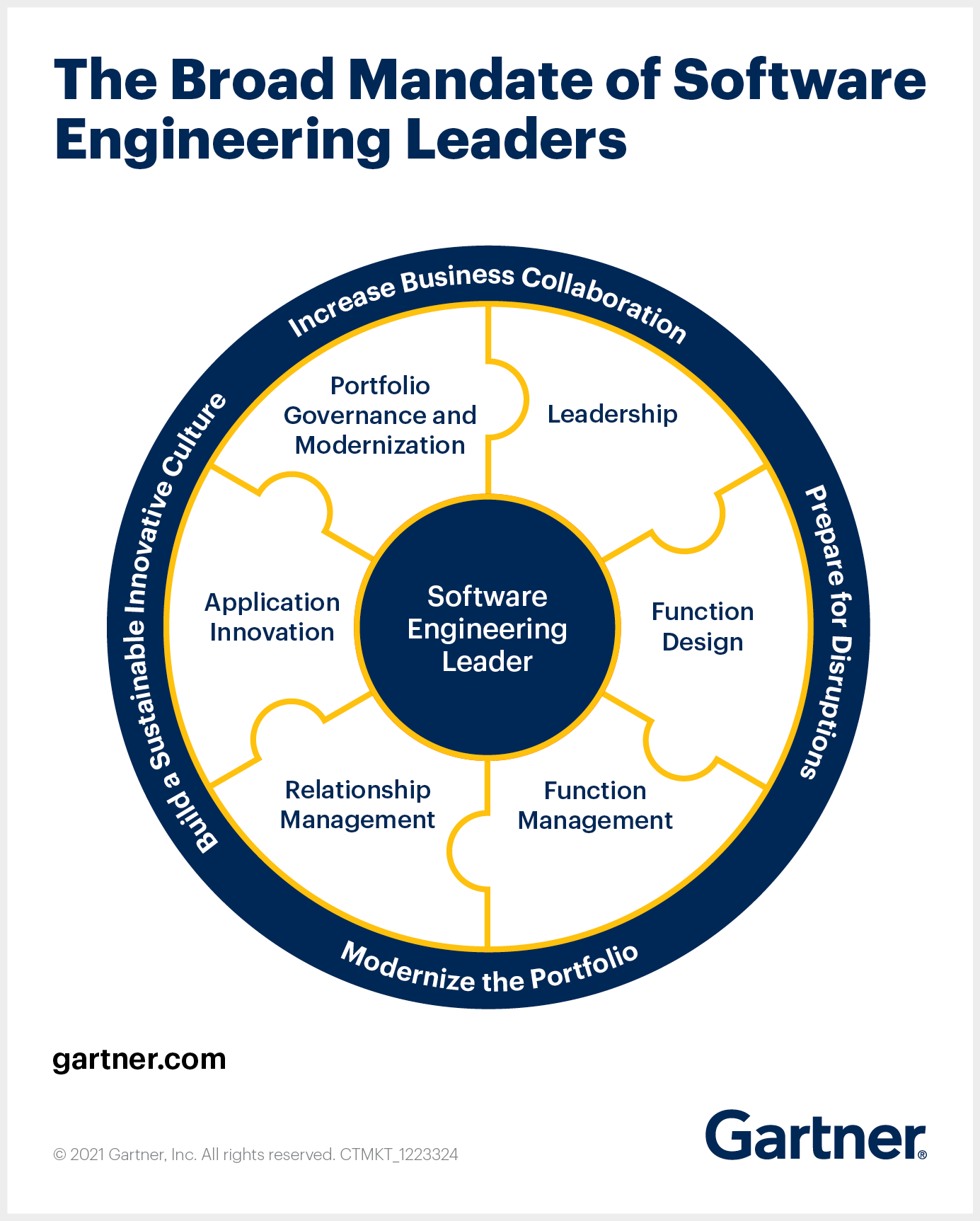 "The evolution of software engineering has expanded the scope of a software engineering leader's job," says Mike Gilpin, Managing Vice President, Gartner. "It's not just about delivering code. On a daily basis, software engineering leaders are concerned with resilience, scaling, security, team morale, open source, low code, managing stakeholders, emergent technologies and legacy solutions."
Three priorities for software engineering leaders
In short, software engineering leaders must deliver the software and digital products that underpin digital transformation and enable business units, functions and teams to improve productivity and customer experience. They must do this while the organization navigates a world of democratized development and composable applications.
To succeed, software engineering leaders must inspire their teams, develop talent, and shift their culture and delivery approach to maximize value with the right capabilities and customer experience — preparing their businesses to weather disruptions such as COVID-19 or more recent recovery-driven shortages and supply chain pressures.
These three initiatives will be key:
No. 1: Build, develop and retain the talent that drives success
To drive the digital ambitions of the enterprise, software engineering leaders must develop in themselves and their people the competencies they need to ensure high-performance software delivery. Digital leaders are snapping up in-demand talent while also developing their people — for example, to increase customer centricity while innovating with technology.
A delivery approach based on agile and product-centric principles aligns teams with customer and business priorities, rapidly delivers and improves digital products, and empowers teams to make decisions — enabling the business agility crucial to success with digital business.
Read more: 6 Best Practices for Remote Work by Agile Software Development Teams
No. 2: Deliver breakthrough customer experiences at scale
Software engineering leaders must cultivate a shift in how their people think to focus less on whether applications fulfill a long list of requirements written by a business analyst, and more on whether they deliver a compelling customer or user experience (CX/UX). That means moving away from the traditional technology-centric model of quality to an outside-in, customer-driven perspective. This view builds into the culture an expectation of infusing quality into every step, from the inception of an idea through to operations.
Read more: Gartner Top Strategic Technology Trends for 2021
No. 3: Sustain success with a scalable and secure digital platform
The most successful digital businesses use a wider range of products, architectural techniques and services than others. Progressive software engineering leaders must therefore champion the move from legacy monolithic systems to the kind of flexible digital foundation that digital leaders employ. A composable digital platform flexes with today's ever-changing business demands, enabling you to create and switch building blocks in and out as teams assemble or reassemble business processes and customer or user experiences.
Read more: IT-Business Collaboration Fuels the Future of Applications
[swg_ad id="38768″]
The post 3 Digital Priorities for Software Engineering Leaders appeared first on Smarter With Gartner.