Most finance teams now use RPA to drive efficiencies , but RPA can only automate simple, repeatable tasks; it can't automate the complex processes and workflows needed to improve business agility and efficacy. Adding AI-powered technologies and tools offers the next level of automation for finance, but CFOs must identify the most appropriate use cases .
Source: Finance AI Is Critical to CFO Digitalization Efforts
AI-powered automation puts finance on a path toward what Gartner calls "hyperautomation" — in which entire processes, not just tasks, are automated. Complementing RPA with AI is a critical step in evolving the types of tasks being automated, from rule-based to judgment-based, and the scope of automation, from tasks to process orchestration.
"CFOs need a holistic and long-term approach to hyperautomation," says Alejandra Lozada, Senior Director Analyst, Gartner. "Organizations that approach hyperautomation choices in a piecemeal fashion will struggle to scale these initiatives. The overall focus must be to enable the orchestration of processes using an architected array of multiple hyperautomation technologies."
Attend webinar: The Top Priorities for CFOs and Finance Leaders in 2021
Finance AI use cases
Hyperautomation will ultimately enable finance teams to automate and orchestrate multiple end-to-end processes (for example, record-to-report, order-to-cash) to drive functional improvements. "But many finance functions and leaders have yet to plot a path to hyperautomation, and must first define the use cases even for finance AI," says Richard Ries, VP, Advisory, Gartner.
The best candidates for near-term AI enablement are dynamic processes that require judgment and involve unstructured, volatile and high-velocity data. Examples include complying with new accounting standards, reviewing expense reports and processing vendor invoices.
For those still looking to identify areas to automate, profile finance processes based on the nature of the underlying tasks and data, specifically:
The level of human judgment involved in a process. Technology can:

Mimic finance processes to increase efficiency.
Enable teams to improve process efficacy.
Enhance a process to increase business agility.
Augment human judgment to perform a process more innovatively.

The task profile, which can be routine, rule-based and predictable (such as account reconciliations) or judgment-based dynamic and ad hoc (such as interpreting lease documents).
The data profile, which can be structured, stable and low velocity (such as quarterly customer transaction data) or unstructured, volatile and high velocity (such as audio/video files, tweets). Velocity is the measure of how fast the data is coming in, and the stability/volatility of data refers to the permanence of the data in the system.
Notably, it costs more to augment a process than to mimic one because more technologies are required and combining technologies is complex. But the benefits are also greater. Augmenting an end-to-end process offers broader opportunities not only for automation, but also for process innovation.
Key automation tools and technologies in finance AI
Selecting the right finance AI solution or combination of solutions can be difficult, and CFOs should work with their IT infrastructure teams to build integrated technology roadmaps where multiple technologies complement each other. That roadmap can include the following elements, among others, says Lozada.
RPA focuses on automating a collection of human tasks for applications that don't have integration interfaces, such as copying information from one application and pasting it into another. RPA platforms use multiple techniques, including operating system application programming interfaces, optical character recognition and image recognition.
Integration platforms, such as iPaaS (Integration Platform as a Service), effectively orchestrate a series of interactions by software systems, where no human involvement is required.
iBPMSs (intelligent business process management suites) offer a faster and more agile development environment while continuing to focus on enterprisewide process discovery, visualization and monitoring. An iBPMS combines low-code application development, an integration platform and process workflow into a single package.
Built-in workflows — capabilities provided by software as a service (SaaS) and commercial off-the-shelf software — are part of the automation roadmap but aren't complementary to RPA.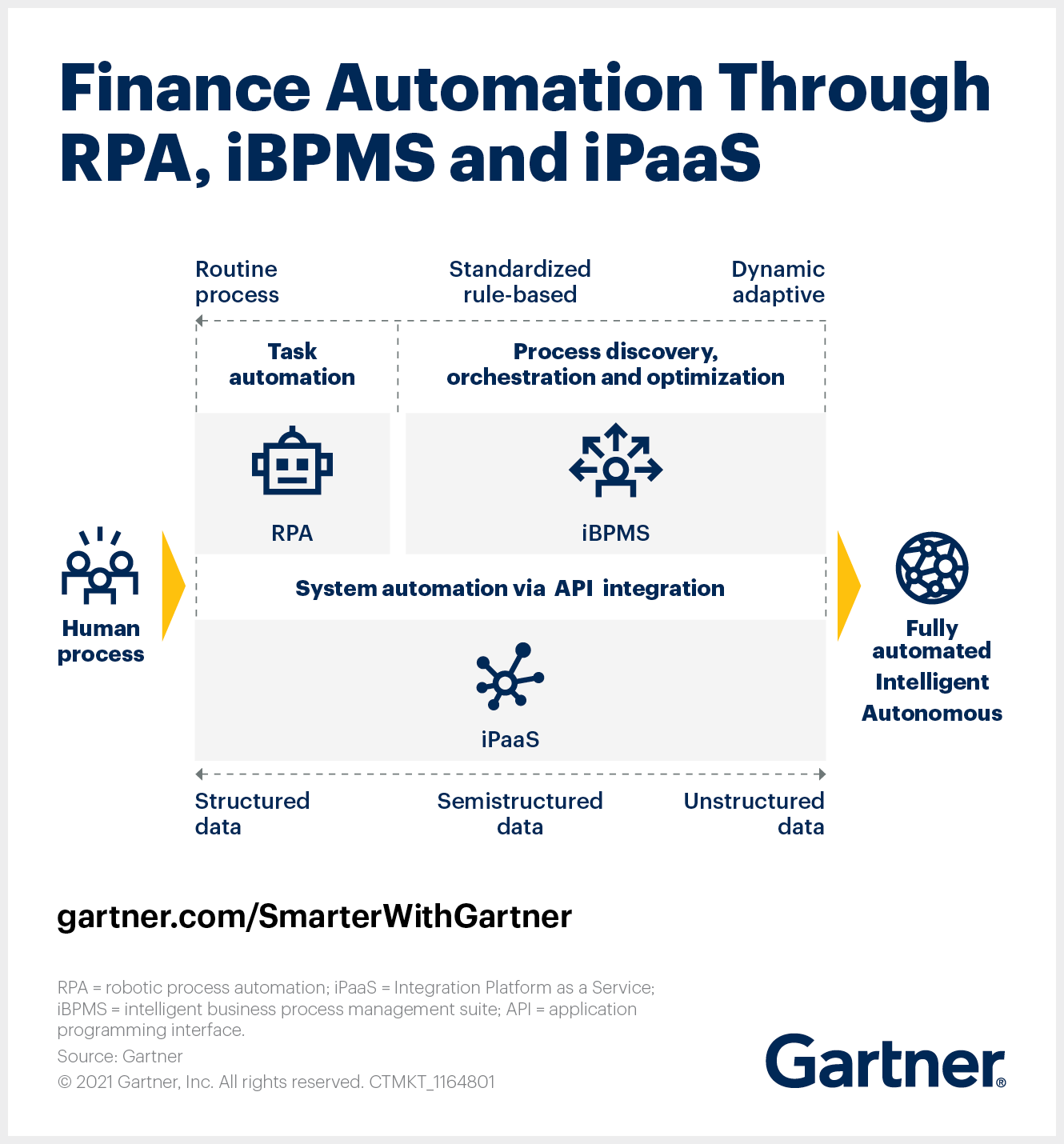 Read more: Financial Forecasters Should Beware 3 Machine Learning Myths
Next hyperautomation steps for finance leaders
Hyperautomation strategy isn't a "set it and forget it" activity. It's a proactive and holistic effort to optimize or transform processes and drive scalable, resilient and adaptable automation. To select and combine the automation options effectively:
Work with your IT infrastructure teams to build an integrated technology roadmap where multiple technologies such as the iBPMS, RPA and ERP solutions complement each other. Don't opt for plug-in solutions to improve individual processes.
Capture quick wins from finance AI. Apply RPA as a short-term fix to quickly automate high-volume and repetitive human tasks. Select tasks that don't require complex integration and don't change frequently.
Redesign and optimize long-running processes. Not all traditional processes need to be digitalized. Use automation mapping as an opportunity to redesign existing processes and identify redundancies and scope for modernization.
Build integrations across platforms. Use iPaaS when integration requirements can't be avoided and cross-application integrations involving cloud-based platforms are a priority.
Conduct due diligence on vendor solutions and determine whether existing RPA vendors are evolving their solutions to combine AI-powered technologies. For example, some RPA vendors partner with iBPMS providers to integrate their RPA platform and offer end-to-end process automation.
The post Finance AI Is Critical to CFO Digitalization Efforts appeared first on Smarter With Gartner.